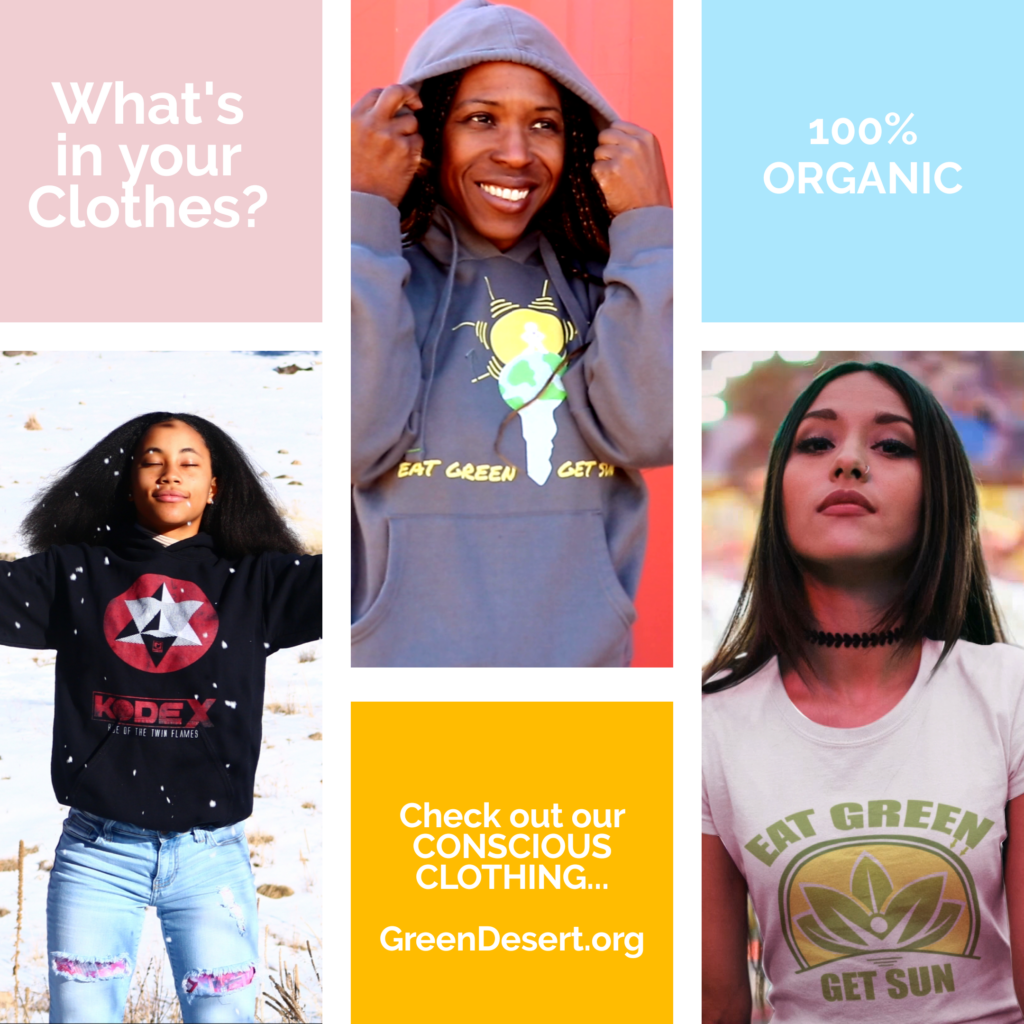 I want to introduce to you a new line of fashion to add to your wardrobe… conscious clothing.
It's a simple way to keep toxins out of our bodies, land and our lifestyle.
I won't bore you with ALL of the harm our clothes are causing, but I'll touch on some of the basics:
Most clothes are made from cotton.  And many traditional cotton farmers ensure they get healthy crops by spraying pesticides and herbicides, including glyphosates.  Glyphosates are known, even noted by the World Health Organization, as "probably carcinogenic to humans." Probably?  And it's still okay that it's being used?
Those same glyphosates leech into our skin and bloodstream; runs into aquifers used by other farmers and is blown throughout the atmosphere.  The same chemical that is supposed to "maybe" cause cancer?
Another thing glyphosates are known for is killing beneficial gut bacteria.  That's your immune system! 
And did you know that cotton clothing requires 1/3 of a pound of chemicals for a single shirt, chemicals that are harmful to our environment?
I could go on and on.  They're all examples of how the clothes we buy have a huge impact on or health and environment.  So we should be just as mindful of what we put On our body as we are about what we put IN our body.
So what do you do?
Consider resale stores and clothing swaps. You can take clothes you have and sale them for other clothes. This is a great way to get rid of kid clothes as they grow as well.
This can be such a fun experience, especially if you're crafty.  Take clothes you already have and create new ones.  I get it, most of us probably aren't going to become overnight fashion designers and start upcycling our entire wardrobe, but it's an option.
Buy eco-friendly clothing. By wearing organic and eating organic, we lower the demand for so many toxic chemicals and we force farmers, scientists and engineers to come up with something better for our guts and environment.  I realize it really isn't feasible for most of us to get rid of all of our clothes and start over with everything organic;.  But we all can limit the amount of new, traditional clothing we buy.  If you are going to shop new, make the majority of your purchases organic. 
I can't pretend that my entire wardrobe is filled with conscious clothing, but it's definitely the goal! I will admit, I'm in my 40's and I still have clothing from high school.  How's that for leaving less of a footprint!
As a commitment to sustainability we offer organic clothing with affirmations that reflect techniques that lessen our footprint.  Check out our merchandise… we have everything from shirts, hoodies, bags, even a graphic novel in the form of an e-book!