What is Graywater?
No, it isn't water that looks gray. Simply put, graywater is wastewater from your sinks, showers, bathtubs or laundry. This water is an excellent choice to irrigate compost piles, grass, or any other perennial crop.
What Graywater is Not!
Water from your toilet, kitchen sink and dishwashers is not considered graywater. This is due to high health risks of organic matter that may be present in the water. To get more specific guidelines about graywater click here to download the Arizona Department of Environmental Quality's guide.
Why use Graywater?
Typically, a washing machine uses 40 gallons per load. That's a lot of wasted water!
Here at the GreenDesert.org we wash about 4-5 loads per week. That's 200 gallons a week of water savings by recycling that water!
Use less of the valuable potable water
Save money on your water bill
Drought proofing your landscape
Have a constant source of water for irrigation and compost piles
Possibly add nutrients from graywater's beneficial bacteria to soil
Graywater don'ts
Don't use graywater on crops to be eaten raw such as lettuce
On root crops, use both graywater and fresh water to avoid any pollutant buildup
If graywater is to be used for irrigation of plants with edible parts, a subsurface irrigation must be used. The only exceptions are citrus and nut trees.
Graywater should never be sprayed
Want to use Graywater, what should you do?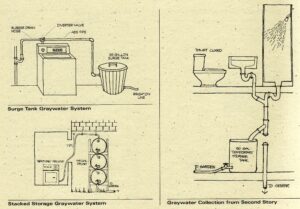 Determine if it is feasible for you to access your laundry, bathroom tubs/sinks and or shower. If you are not sure, an experienced plumber can help you get the graywater to your plants. Typically the easiest place to start is your washing machine. Most washing machine pumps have enough power to pump graywater 8′-10′; Enough to get it up to your attic and out of the house. Once you have the water high enough you can use gravity to irrigate your garden.
The following graphics from Water Conservation Alliance of Southern Arizona convey the wide variety of systems that can be designed for retrofitting a home and help you design and install your own system.
     Did you know?

Now that you are using Graywater, you now have to use environment-friendly soaps.

The expected cost of installing a new Graywater system is between $135-$1250.

You will need to filter out the Graywater before watering your garden.