You could have a miracle weed right under your feet. Purslane truly is a weed, but with its added benefits, you'll be hooked to add this to your next recipe.
Purslane is a green, leafy vegetable that grows in many of our yards.  You can eat it raw or cooked.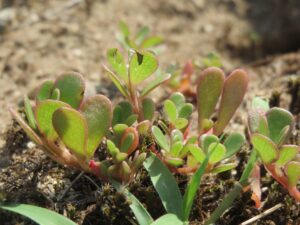 "It's a miracle plant," said Dr. Artemis Simopoulos, president of the Center for Genetics, Nutrition, and Health in Washington, who discovered while working at the National Institutes of Health that the plant had the highest level of Omega-3 fatty acids of any other green plant.
Purslane contains about 93 percent water, filled with red stems and small, green leaves.
The benefits are endless…
Omega 3's
Vitamins A, B, C, E
Beta Carotene
Calcium, Iron, Potassium
A little history… Purslane grows in many parts of the world, in very different settings. "Common purslane, Portulaca oleracea, is a highly variable, weedy plant in the purslane family (Portulacaceae) with a wide distribution. Although it is likely native to North Africa, the Middle East, and the Indian subcontinent, it had reached North America by pre-Columbian times and was in Europe by the late 16th century" (University of Wisconsin-Madison.)
Fun fact… Purslane has 16 calories, and you can incorporate it into your next meal.
Simple Meals:
Purslane Salad
Purslane Chimichurri
Steamed Purslane
And my favorite… Purslane Pasta.
The recipe is below. There's also a video showing you step-by-step. I like to use black rice noodles for the taste and superfood benefits!.
 PURSLANE PASTA WITH BLACK RICE NOODLES
This is one of the simplest recipes I own… and one of my favorites.
 Ingredients:
1 tablespoon oil
1/8 cup garlic
¼ cup onions
¼ cup tomatoes
¼ cup corn
Salt and pepper
1 cup purslane
Feta Cheese (optional)
How to Make It:
Add oil to the skillet. I like avocado oil, but use your favorite.  Add your garlic and stir for about a minute.  Add your onions, and again let it cook for about a minute.  Add your tomatoes and stir for about 30 seconds before adding your corn.  Let everything cook for about a minute.  Sprinkle salt and pepper, and then stir in your purslane.  In about a minute, you're done!  Plate it, sprinkle feta cheese and dinner is served!