This egg salad recipe is super easy to make and I may be a little biased, but I think it's the best one you'll find.  It's creamy, crunchy and delish.
INGREDIENTS
6 eggs
1 tablespoon cream cheese
2 tablespoons mayo
1 tablespoon mustard
1 teaspoon salt
1 teaspoon pepper
1 teaspoon smoked paprika
1 teaspoon dill weed
2 tablespoons relish (link to recipe below)
Chopped garlic chives
Chopped parsley
Finely diced celery (optional, adds good flavor and nice crunch)
Finely chopped spinach (optional)
Scallions (optional)
Boil your eggs, then immediately transfer them to a bowl of ice water.  Let them cool for about 10 minutes.  The cold water makes it easier to peel them.
Peel the eggs then cut them in half and separate the yolk from all 6 eggs.
Put the yolks in a bowl and add all of your ingredients, mashing the yolks and mixing until creamy.
Chop the egg whites into small pieces and mix with your other ingredients and your egg salad is done.  You can eat it on crackers, in wraps and of course on sandwiches.  I like to slightly toast my bread, then spread guacamole on both sides.  Next I add lettuce and tomatoes from the garden, a little balsamic and top it off with the egg salad. DELISH!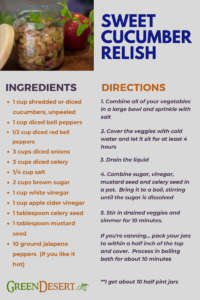 The recipe is simple to customize.  I use a vegan, probiotic cream cheese and homemade relish from our Armenian cucumbers; I've made it with onion powder, chopped spinach and scallions, even added diced pickles, dill weed and celery.  So play with it until it's perfect for your palate… then write it down.
Be sure to check out our page on natural remedies  and add some of those natural ingredients to your recipe.