Ways to Boost Your Immune Health from Home
It's a new year and that comes with new opportunities to take care of our bodies in natural ways! How you fuel your body affects everything from your mood and appearance to your overall physical and mental health. In a time where staying home is encouraged to protect the health and safety of everyone in our communities, here are some easy ways to boost your body's natural defenses without having to leave your house. 
Get outside for some moderate exercise.
Being outdoors when the sun is shining can give your body some much needed vitamin D and along with mild exercise – like stretching and conditioning/toning exercises – can reduce inflammation and promote circulation. Try to step into the backyard for 30 min a day for a light workout.
Consume whole plant foods.
Whole plant foods – like nuts, vegetables, and seeds – are antioxidant rich and can help decrease inflammation. Many fruits and vegetables are also high in vitamin C, which can decrease the duration of a common cold. The vitamins in green leafy plants can boost your immune system and naturally deter harmful pathogens from remaining in your body. You can even grow these whole plant foods in your own garden making it a win for your health and a win for your wallet!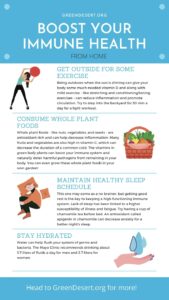 Maintain a healthy sleep schedule.
This one may come as a no brainer, but getting good rest is the key to keeping a high functioning immune system. Lack of sleep has been linked to a higher susceptibility of illness and fatigue. Try having a cup of passion flower or chamomile tea before bed. An antioxidant called apigenin in chamomile can decrease anxiety for a better night's sleep.
Stay hydrated.
Water can help flush your system of germs and bacteria. In fact, not drinking enough water can lead to some serious problems including headaches, cramps, low blood pressure, seizures, even organ failure. The Mayo Clinic recommends drinking about 3.7 liters of fluids a day for men and 2.7 liters for women.  You can also "eat" your water! Foods like melons, peaches, cucumbers, tomatoes, spinach, oranges are great hydrating foods.
Incorporating these things into your daily routine at home may help you notice an improvement in the way you look and feel. You can use what you already have at home to make these changes!